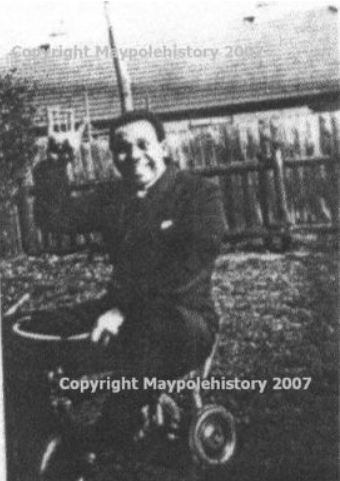 Above - the late Charlie Lawrence - a black boy - (born 28/4/1919) taken in rear garden of George Stockford's house in Baldwyns Road c1937. He was a pupil at Maypole School. The school register shows he started school on 24th March 1924. Has been described by the late George Stockford (Jnr) as a great friend and convivial boy. He lived at 14 Ivy Villas (Next to the Post Office) with his widowed mother. Her husband was killed in WWI when HMS Hogue was sunk by the Germans (20/09/1914).
Click the link for the story of HMS Hogue.
https://youtu.be/7HuGcavqoMg

Archives from the HMS Hogue Roll of Honour - LAWRENCE, Leading Stoker, WILLIAM, 297574. (RFR/CH/B/9794). Royal Navy. . Age 31. Son of John Lawrence; husband of Elizabeth Lawrence, of 14, Ivy Villas, Maypole Estate, Bexley, Kent.

During WWII it was believed that Charlie joined the RAF. Records now show he was a soldier in the Queens Own Royal West Kent Regiment.
Below photograph supplied by Dr. Mike Still, curator of the Dartford Museum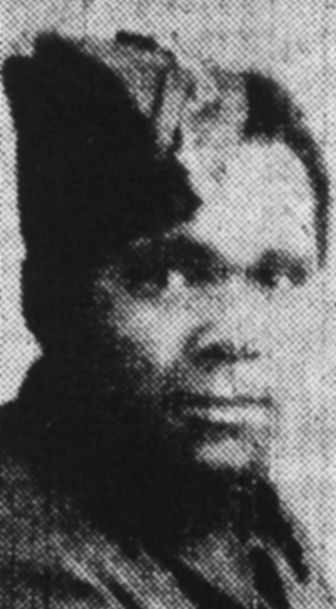 Dr Still has discovered the death registration online (on Ancestry). He indicates:-
The registrar of the local town seems to have insisted on registering every death at the local prisoner of war camp as if the inmates were local residents! Even though the camp was local, the registrar's information was supplied from Berlin so we can't know how true it is, but the cause of death is given as jaundice, so presumably Charlie had contracted hepatitis.
Charlie's birth certificate gives Elizabeth Lawrence as his mother, as expected, but names her husband, who had died four and a half years earlier, as the father! Therefore, since she wasn't telling the truth to the registrar about this, can we believe that she was even Charlie's real mother? She may have adopted him to help out another woman. We will never know. Incidentally, she claims to have given birth to Charlie in Denton, east of Gravesend, at a house which she gave as her residential address. However, she is also listed at her Maypole address of 14 Bexley Lane in the street directory for the same year (which may even have been published the previous year). Possibly she had relatives at the Denton address and stayed with them to have the baby.
Charlie's mother died in early 1940 and he then moved out of 14 Ivy Villas and in with the Stockford family at 48 Baldwyn's Road, shortly before enlisting and heading off for France with the Army.
The below is submitted by Dr Mike Still - curator of Dartford Museum 23rd March 2021
CHARLES LAWRENCE 1919-1941
30 October 1905 – William Lawrence of Bridgen, Bexley, married Elizabeth Wise who had grown up in Bexleyheath, Crayford and Erith.
10 September 1914 – Elizabeth Lawrence gave birth to a baby girl, Louisa Lawrence.
22 September 1914 – William Lawrence, Leading Stoker in the Royal Navy, was killed when HMS Hogue was sunk by the German submarine U-9.
4 October 1914 – Twelve days after William Lawrence died, Elizabeth took their new born daughter Louisa to be baptised at St Mary's Church, Bexley. Elizabeth gave her address as 14 Ivy Villas (now in Old Bexley Lane on the Maypole Estate, Dartford).
3 March 1916 – Louisa Lawrence was buried in the Municipal Cemetery, Gravesend, at the age of 17 months. Elizabeth gave her address as 2 Victoria Road (now Empress Road), Denton, now a suburb of Gravesend. This was the home of her married sister, Louisa Clarke.
July 1918 – About 300 African American troops are known to have been present in Gravesend while working at the Swanscombe Cement Factory. They were apparently camped in a field near Gravesend. A newspaper in February 1919 said 'They were lodged in tents and were frequent visitors to Gravesend. Generally speaking they were a quiet, disciplined lot, and they fraternised very effectively with the people of the neighbourhood.'
28 April 1919 – According to Charles Lawrence's birth certificate, Elizabeth Lawrence gave birth to him at 2 Victoria Road (now Empress Road), Denton. Elizabeth Lawrence gave this as her residential address although it was actually the home of her married sister, Louisa Clarke. While growing up, Charles was known as the black boy with a white mother. Despite the fact that we have two photographs of Charles, opinions differ as to whether or not he was mixed race. Therefore we can't be certain that Elizabeth was actually Charles' birth mother. As for his father, Elizabeth claimed to the registrar that this was William Lawrence, ignoring the fact that William had been dead for four and a half years and had been white. If Charles was mixed race then Elizabeth could have been his birth mother or, as a widow with 'Mrs' in front of her name, she could have unofficially adopted him in order to help an unmarried white woman. As for his true father, although it is possible that his father could have been a seaman who had visited Gravesend, it is quite possible that his father was actually one of the African American soldiers who had been based in the Gravesend area nine months before. However, if Charles was not mixed race, then it is difficult to know who his parents could have been, since there would have been relatively few black women in this country at the time.
1919 – Elizabeth Lawrence is listed as living at 14 Bexley Lane (Maypole Estate, Dartford).
24 March 1924 – Charles Lawrence started at the Maypole School, according to the school records.
1935 – Elizabeth Lawrence is listed as the head of the household at 14 Bexley Lane, in the Dartford street directory. She brought up Charles on her own at this address next to the post office on the main road opposite Bexley Hospital. Charles worked locally as a gardener with a 'Mr Stockford'. This was presumably George Stockford senior who was the gardener at Maypole House. Charles is said to have run a band on the Maypole Estate and to have been well liked by all who knew him.
1939 – Elizabeth Lawrence is listed as the head of the household at 14 Bexley Lane, in the Dartford street directory.
12 February 1940 – Elizabeth Lawrence was buried at St Mary's Church, Bexley, having died at the age of 56. Charles Lawrence, who would have been 20 years old, went to live at the family home of his friend, George Stockford junior, just round the corner at 48 Baldwyn's Road, also on the Maypole Estate. Charles had apparently been a member of the Territorials for nearly a year by this time.
April 1940 – Charles Lawrence was sent to France at the beginning of April 1940 with his Territorial unit, the 7th Battalion of the Royal West Kent Regiment. They were only meant to undertake labouring duties and had not been fully trained but were eventually put into the frontline at Albert to hold off the German attack while other troops escaped at Dunkirk.
20 May 1940 – In the confusion of the German advance, Charles Lawrence was separated from his unit and was listed as missing from this date. This was the day on which his battalion was attacked first from the air and then by infantry accompanied by tanks.
26 July 1940 – The Dartford Chronicle announced that Charles Lawrence was listed as missing using information and a photograph received from the Stockford family.
2 August 1940 – The Dartford Chronicle added a footnote to say that it was now known that Charles Lawrence had been captured in France by the Germans and was now a Prisoner of War. His best friend, George Stockford junior, started collecting food from neighbours to send to him. Subsequent events suggest that he was being held in Marienburg Prisoner of War Camp, (Stalag XXB), West Prussia.
19 September 1941 – Charles Lawrence may already have been ill by this time since a fellow prisoner at Marienburg, Jack Collins, recorded in his diary '… going away tomorrow, leaving Darky Laurence behind, sorry to lose him'. Despite the misspelling of the surname, it would seem likely that he was referring to Charles Lawrence, although the nickname was often applied to some white people at that time. Collins was being sent to work on a farm and it sounds as if Charles was normally sent on the same work details but was unable to go on this occasion. Unfortunately Collins does not mention Charles anywhere else in his diary.
2 November 1941 – Charles Lawrence died of jaundice at the age of 22 in the camp hospital at Marienburg Prisoner of War Camp, (Stalag XXB), West Prussia (modern Malbork, Poland) at 6.45pm. His death was registered by the registrar of that town and he was first buried in the camp cemetery. We do not know the cause of his jaundice but it could have been a result of hepatitis from insanitary conditions. Other causes could have been gallstones or sickle cell disease. The cause of Charles' death was never known on the Maypole Estate and rumours spread that he had been shot while trying to escape or had died of pneumonia while working in a salt mine.
30 November 1948 – Charles Lawrence was reburied in the Poznan Old Garrison Commonwealth War Cemetery. It is not known why he was not buried in the Malbork Commonwealth War Cemetery, although he was not the only Marienburg prisoner to be buried in Poznan
Below is record from Military Records
Death Date:Number:Birth Place:Residence:Regiment at Enlistment:Branch at Enlistment:Theatre of War:Regiment at Death:Branch at Death:
Private

2 Nov 1941

6346102

Kent

Kent

7th Battalion Queen's Own Royal West Kent Regiment

Infantry

Western Europe Campaign, 1944/45

7th Battalion Queen's Own Royal West Kent Regiment

Infantry

When he became a German POW. George Stockford (Jnr) proudly remembered collecting food for red cross parcels for him. After all, his dear mate was safe. Not for long.In November 1941 Charlie died. There were two stories floating around as to his death 1) he was shot - we are told whilst trying to escape - that was the usual reason, wasn't it - mmmmmm ? and 2) died of pneumonia after being worked down salt mines. Either way, we suppose this was nothing to do with his colour ? The rumours about his death are in conflict with Dr. Stills entry - the official cause of death.
He is buried in Poland. Two generations lost to two world wars
Mentioned on the Commomwealth War Graves Commission - see below - the Poznan Old Garrison Cemetery is where the remains of the 50 Prisoners of War who were shot after the 'Great Escape' by the Germans now lie.